We specialize in commercial photography for all types of businesses.
One of the most important aspects of web design, and marketing in general, is imagery. People relate to images much more readily than even the most skillfully crafted advertising copy. Nearly always, the difference between a good website and a great website is the quality of the images—specifically photography.
Photography is key. But, getting great photographs can be challenging to say the least. Of course you can hire a professional photographer, but many times, the images we need to build a website are different than what most photographers provide. Also, we generally need a lot of photos, which can be in conflict with many professional photographer's licensing terms. It's also costly.
Just the right photograph, no problem.
99% of our clients don't have quick access to great photos. Most companies don't have photographers on hand. A few take before/after pictures of projects, or a handful of snapshots of their location, products or staff, but these are rarely what we consider "production quality" images.
Occasionally, a client will have excellent images from a past professional photo shoot, but have been used to death. Scheduling a new photo shoot can be a massive, costly pain in the butt, so it never happens.
Our solution is to have in-house professional photography staff and equipment for just about any project. This way, we are able to ensure the best possible images are available as we need them. Scheduling is rarely a problem, and licensing restrictions never drive the cost out of control.
Types of Photography
We have a pretty amazing range of photographic capabilities for an agency that doesn't tout itself as a photo studio. We have a portrait studio onsite, that is ideal for taking photos of your staff. It was also designed as the perfect space for shooting product images. We utilize flash as well as continuous light, depending on the subject and situation, along with dozens of lens options and camera configurations.
For location photography, we can shoot by air, land and sea. In air, we utilize drones and have access to human-piloted aircraft if a project requires it. On land, we shoot indoors and outdoors—just about any subject. Finally, our underwater photography capability is world-class. We shoot all over the world.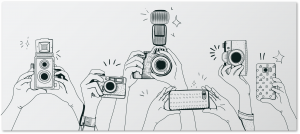 Studio Photography
We use our photography studio primarily for portraits and products, images where repeatability and lighting control are critical. Our studio is always ready to go, so if you add staff or just want to update your picture, you can be in and out in just a few minutes.
Since lighting is tightly controlled, product photo shoots move quickly and post-production is kept to a minimum. Most importantly, your products will look their best in all views.
Location Photography
To us, location photography means pretty much anything outside our studio. When we go mobile, we need to take all of the equipment, lighting, cameras, lenses, props, etc. with us and be ready to deal with whatever challenges come up.
The most common location shoots for us are at our client's physical location. We often shoot building interiors like offices or hotels, and occasionally museums, or other architectural needs.
Often, we go on location because the subject demands it. A good example is aircraft, where mobility is limited. Event photography is another example. Naturally, travel destination photography requires going on location.
In all cases, we build a shot list, based on meeting image requirements for specific marketing needs—website, print advertising, brochures, directories, etc.
Aerial Photography
Mostly, aerial photography means we'll be using drones. We do have access to pilots of conventional manned aircraft, but unless we are filming other aircraft, drone photography is al
most always a better option.
Underwater Photography
We do a lot of work in the dive industry, especially the dive travel industry. Web design and Internet marketing are critically important to diving related businesses. No one visits a resort without a very good idea of where they're headed.
Divers will go through a lot to have a once-in-a-lifetime experience. We need to give them something to dream about. One challenge is light behaves very differently underwater than it does in air. Our woking distances have to be much closer, and almost always artificial light is required. Add to that, underwater photography is an equipment challenge, as well as a logistics nightmare.
We have the skill and expertise to conduct photographic dive operations to 300 feet, using open and closed circuit diving systems. Additionally, we can work in near-freezing water temperatures, so just about any depth and aquatic environment is within reach.