Don't just DO social. Be social.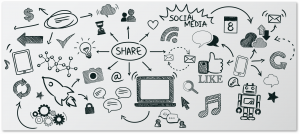 Social Media Marketing with OCG Creative
Social media marketing doesn't seem like the kind of thing you would need a marketing agency for. After all, social media is about relationships and customer interaction. Who better to interact than you? You know your business and you understand your market better than anyone.
For most business owners, two things get in the way of developing a thriving, active social media community. The first is time. It takes a lot of time to create graphics and messaging, schedule posts across multiple social media channels and keep track of how each is performing.
Add to that, your customers, followers and future customers expect you to be available for questions and to communicate about whatever interests them. As your following grows, so does the amount of time it takes to keep active and engaged.
Second, social media marketing is far more technical than most business owners realize. Every channel is unique and requires that you utilize a range of tools and best practices to be effective.
Social Media Data Analysis
Like everything in digital marketing, data takes center stage with social media. Most social media marketing channels will offer tools for analyzing data, as well as targeting and segmenting markets, built in. It's a lot to keep track of, so we use additional third party marketing and management tools, plus a few of our own.
Ultimately, we are able to paint a picture of your live customer interactions, tracing them from acquisition through to their final conversion on your website—assuming that's where the conversion takes place.
Everything touches everything
There is no truly effective way to manage social media as a single entity. Social media is part of your overall marketing mix. Its contribution to your business often must be measured somewhere else—usually your website, but many times other social media channels and sometimes a phone call.
It is important that we have the ability to follow traffic as it flows from channel to channel. In doing so, we can tailor messaging to specific interests and match content to your visitor's individual goals and stage within the buyer's journey.
Often overlooked is the connection social media has to your online reputation. Unfortunately, you don't get to choose what people say about you. Too often, we see businesses suffer needless online attacks over a misunderstanding. Many times, the business has no idea there's even a complain. Or, worse, reacts badly and ends up doing more damage.
The important things is to recognize you are on social media whether you chose to be or not. How you choose to engage will impact your business. By letting us manage your social media efforts, you'll have visibility on everything that's happening on every channel. You'll also know how social media impact your business in ways that are historically difficult to track.
Social Media Marketing with OCG Creative
All we care about is meeting your business goals. That guides everything we do—not just social media. Social media is special in that it opens a line of direct communication between you and your customers.
We learn everything we can about you and your company, as well as your marketing and even individual customers. We learn and grow just as we would if we operated from within your organization. You can be confident we will deliver your message appropriately to a growing audience.
Meanwhile, you'll be able to invest the time savings in other areas of your business. You'll have a better team for a fraction of the cost of a single employee.