My Role at OCG Creative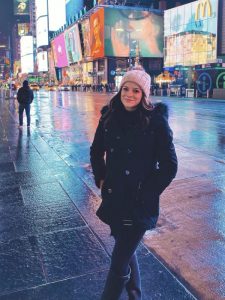 I have 2 roles at OCG Creative. I first started working as an Internet Marketing Associate and solely doing social media. This consists of running clients social media accounts such as Instagram, Facebook, LinkedIn, and Pinterest. I love having the freedom to be creative. Depending on the client, I will post 2-3 times a week. Along with posting, I am constantly working on building more of a presence on all social platforms. This includes engaging online with other accounts as well as following other accounts which results in gaining followers. I really enjoy getting to work with clients on what they have envisioned for their social platforms and making that come to life!
As of recently, I have taken on another role at OCG Creative doing Account Management. This role gives me more of an opportunity to work directly with clients. It is my job to work with clients on goals for their website and internet presence. This includes SEO and constantly working on improving rankings. We make it a goal to ensure the keywords we are tracking for our clients make it to the first page of searches. It is also my responsibility to brainstorm ideas for blogs that can be put onto our clients websites. This also helps improve rankings. With the Account Management role, I love being the person the client communicates directly with and being able to see their website and company grow!
Why I became a Digital Marketing Professional
I graduated from the University of Nevada, Reno with a B.A. in Journalism and a minor in Business Administration. I focused my major on Strategic Communications and although it took me a few tries to figure out exactly what I wanted to major in, I took an immediate interest in this profession. Because I knew that digital marketing was such a growing industry, I thought it would be a great career path to personally grow in as well.
Most Rewarding Part of My Job
Because I have 2 roles, there are a couple things that I really find rewarding about my job. First, seeing a lot of engagement on an Instagram account that I have worked on from the beginning just shows my hard work has paid off. Another rewarding part of my job is seeing when my clients get leads. This results from the efforts of my team and I working our hardest at improving clients rankings. It shows that I have created a successful internet presence for my client.
Outside of Work
Outside of work, I love hanging out with friends and being able to make memories. We enjoy going to concerts, festivals, and taking trips up to Lake Tahoe. Although I have been in Reno for 5 years, I still love exploring new parts of the city. I also spend a lot of my free time shopping or working out! If I'm not in town, I'm probably visiting family and friends back home in Las Vegas, planning a trip to the beach in Southern California or a trip to our cabin in Duck Creek, Utah!
My Favorite Type of Client
My favorite type of client is someone who has a great amount of knowledge about their industry and is excited to work with me on helping their business grow. I have learned that the best results come from great communication between myself and the client.